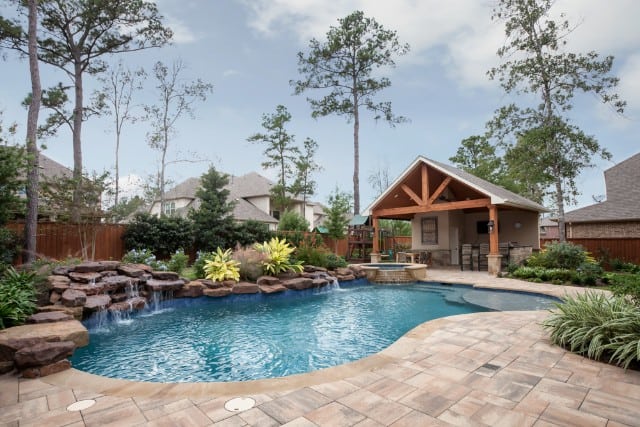 When it comes to the design and construction of custom inground pools and spas, Stewart Land Designs remains the preferred choice in Tomball, TX and the surrounding area. Learn what makes our pool construction process unique.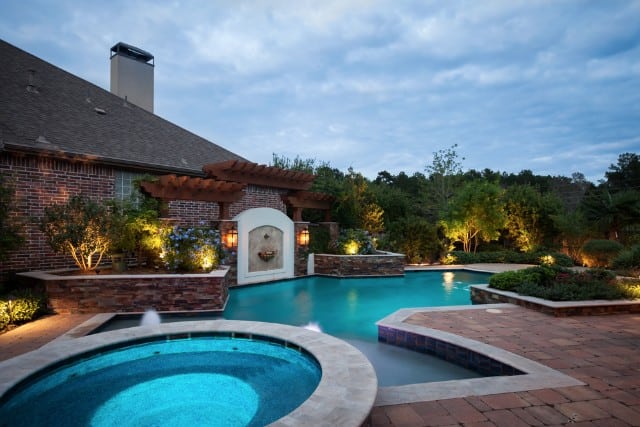 If you're looking for a reliable pool builder in Tomball, TX, Stewart Land Designs stands head and shoulders above the rest. We offer high-quality custom pool construction services.
Pool Construction Services
As a company, Stewart Land Designs takes immense pride in being recognized as the premier builder of inground pools in Tomball, Texas. We have worked diligently to establish our reputation as one of the leading pool construction companies in our local area. Our unwavering commitment to quality, innovation, and customer satisfaction sets us apart within the industry.
Specializing in Inground Pool Construction
Stewart Land Designs consistently surpasses expectations and sets the standard for inground pool design and construction. Our specialization lies in crafting custom pools that seamlessly blend functionality and aesthetics, making us the top choice for discerning homeowners in our community. With our team of skilled professionals and a proven track record, Stewart Land Designs can transform your outdoor space into a luxurious retreat.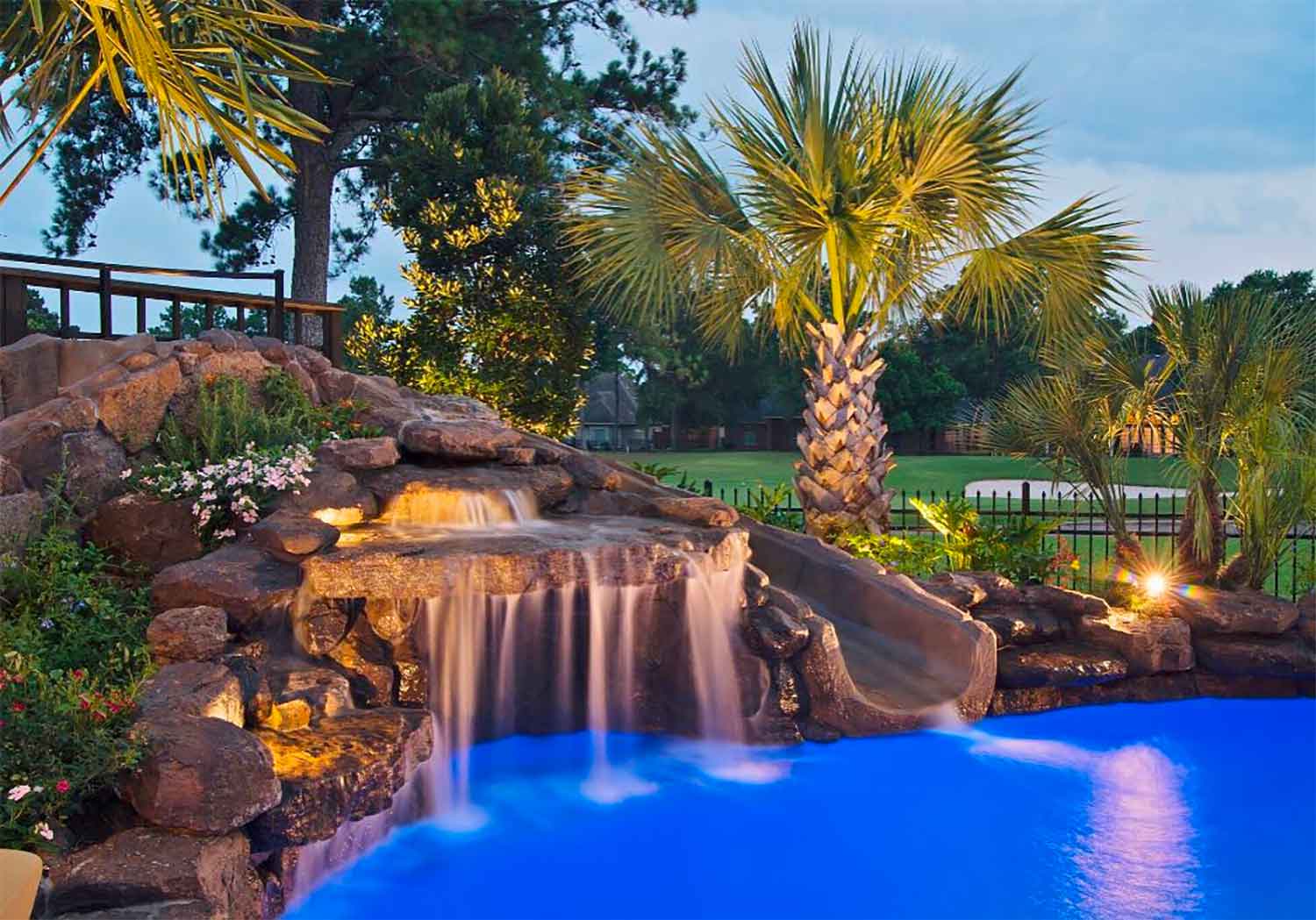 Schedule a Pool Construction Estimate Today!
Thinking of building an inground pool? Call (281) 251-1725 to schedule a free pool construction consultation. We proudly service Tomball, Cypress, Magnolia, Spring, and The Woodlands.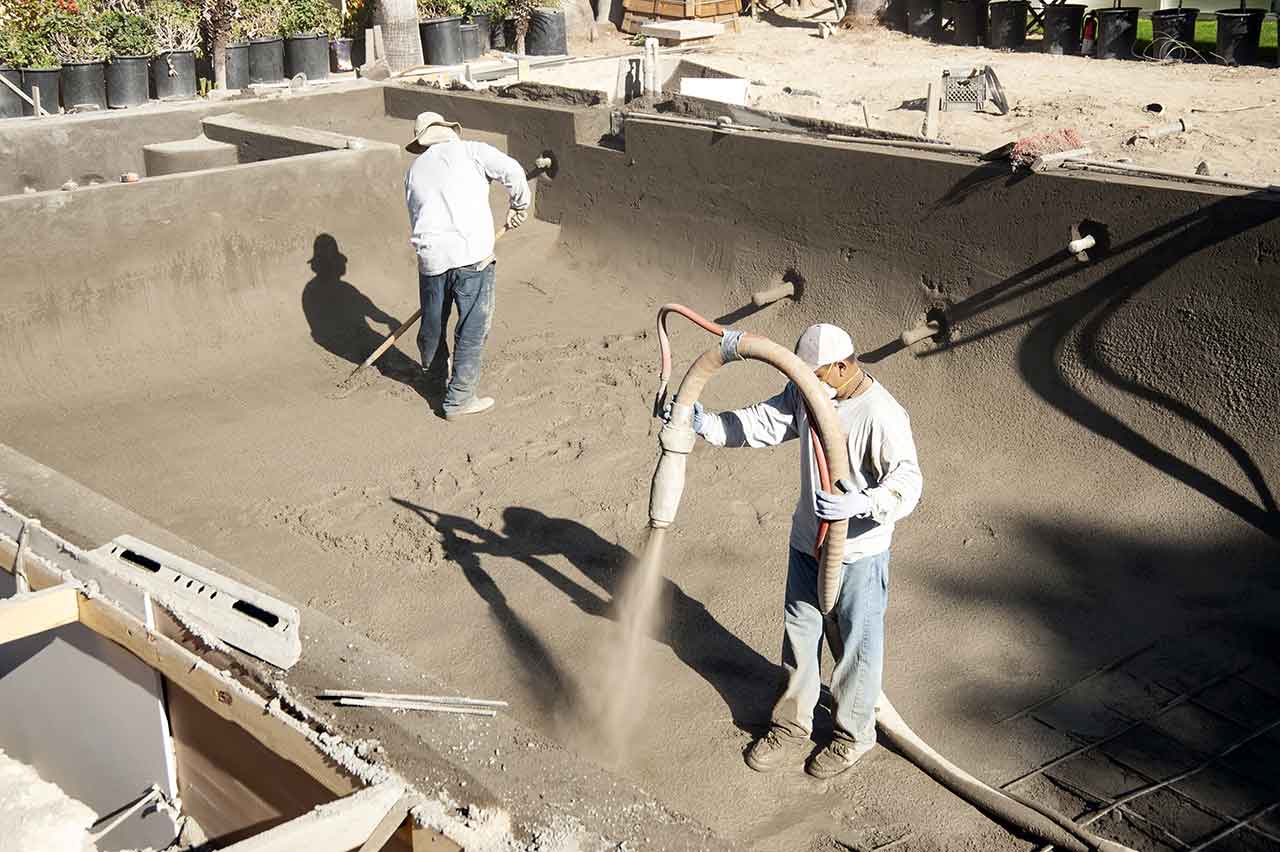 Gunite Inground Pools & Spas
Stewart Land Designs specializes in the art of crafting inground residential concrete pools and spas. From sleek and contemporary pool designs to tranquil and inviting spa environments, we take pride in tailoring each project to the unique preferences and needs of our homeowners, ultimately delivering a place of relaxation and enjoyment that stands the test of time.
Choosing a Pool Builder
When selecting a pool builder, make Stewart Land Designs your first choice. Our commitment to excellence, attention to detail, and customer-centric approach set us apart. With a specialized focus on inground pool and spa construction, we bring a wealth of expertise to each project, ensuring that the end result not only meets but exceeds your expectations.
Explore Our Pool Construction Services
Stewart Land Designs offers a select range of pool construction services, including:
Inground Pool Construction: Design and installation of custom inground pools tailored to your specific needs and preferences.
Spa Construction: Building relaxing and inviting spa environments, either as standalone features or integrated into your pool design.
Pool Design: Collaborative pool design services to create a visually stunning and functional pool that complements your outdoor space.
Pool Renovation: Revitalizing existing pools with services such as resurfacing, tile replacement, and modernization to bring your pool back to life.
Deck and Patio Construction: Creating beautiful poolside decks and patios using various materials such as concrete, pavers, or natural stone.
Water Features: Incorporating waterfalls, fountains, and other water features to enhance the aesthetics and ambiance of your pool area.
Custom Features: Integrating custom features like swim-up bars, tanning ledges, and more to enhance your pool experience.
With these essential services, Stewart Land Designs is dedicated to transforming your outdoor space into a captivating and functional retreat, tailored to your unique lifestyle and preferences.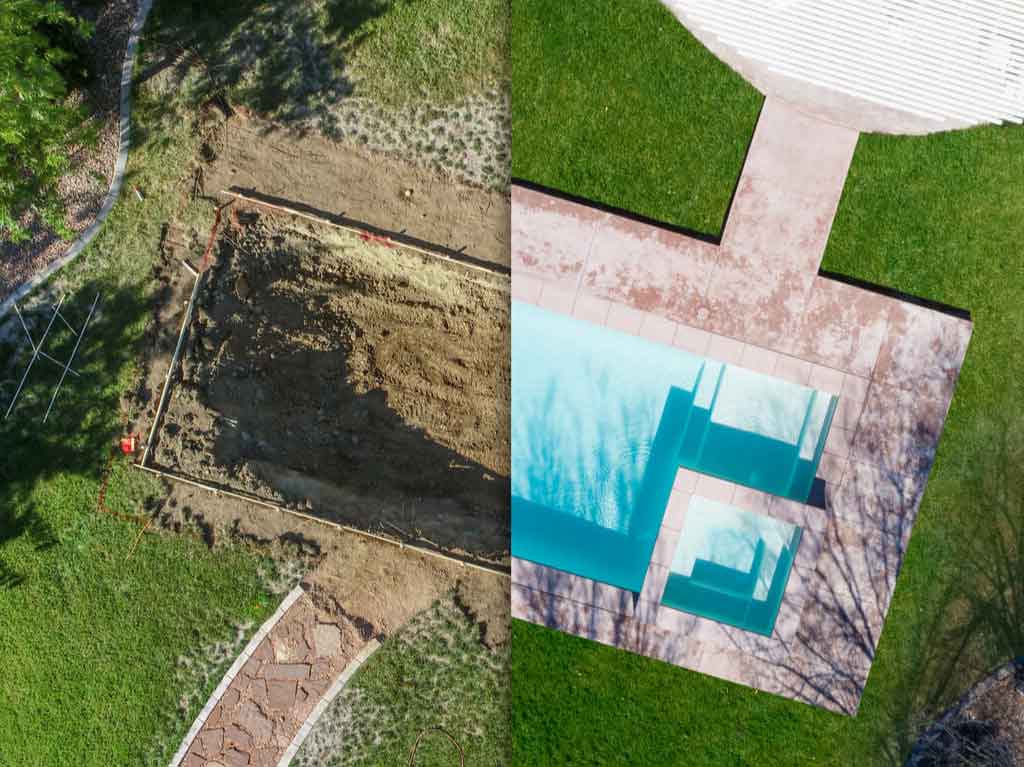 Building a Custom Inground Pool
Our firm specializes in helping homeowners bring their vision to life. With a track record of exceptional craftsmanship and a strong emphasis on meeting your specific needs, we stand as your trusted partner in turning your dream pool into a stunning reality.
Do You Have Questions About Pool Construction?
What Types of Swimming Pools Do You Build?
At Stewart Land Designs, we specialize in constructing custom inground concrete residential pools and spas. Our expertise and focus lie in crafting unique, personalized aquatic spaces that seamlessly blend beauty and functionality. Whether you envision a stunning inground pool, a serene spa, or a combination of both, our team is dedicated to bringing your vision to life. We understand that each client has specific preferences, and our goal is to create a pool or spa that perfectly complements your outdoor space and suits your individual lifestyle.
How Much Does a Swimming Pool Cost?
In Tomball, TX, where Stewart Land Designs is located, the cost of inground custom pools can vary depending on various factors. Typically, most standard perimeter-size and depth swimming pools start at around $65,000 to $75,000. However, for a comprehensive backyard package that includes additional outdoor amenities and custom features, we recommend requesting a personalized quote. Our team will work closely with you to understand your specific needs and preferences, ensuring that the pricing is tailored to your unique project, creating the outdoor space of your dreams.
How Long Do Swimming Pools Take To Build?
The construction timeline for pools can vary, but for most projects, you can expect the process to take approximately 4 to 6 weeks. However, it's essential to note that certain factors may extend the construction timeframe. Delays in permitting, as well as complex material selections and customization, can contribute to a longer build time. Additionally, weather conditions, such as heavy rains or extreme temperatures, may impact the construction schedule. Our team at Stewart Land Designs is dedicated to delivering high-quality work efficiently, and we will work closely with you to provide a realistic timeline based on the specifics of your project, ensuring that your new pool is ready for enjoyment as soon as possible.
What Is The Pool Construction Process Like?
Pool Construction Process Timeline
| Phase | Duration | Description |
| --- | --- | --- |
| Design and Planning | 2-4 weeks | Collaborate with the client, create design, and obtain necessary permits. |
| Excavation | 1-2 days | Dig the pool hole to the required dimensions and shape. |
| Reinforcement and Forms | 1-2 weeks | Install the steel rebar framework and concrete forms. |
| Plumbing and Electrical | 1-2 weeks | Set up the pool's plumbing, filtration, and electrical systems. |
| Shotcrete/Gunite | 1-2 days | Apply the concrete shell using the shotcrete or gunite method. |
| Curing and Inspection | 2-3 weeks | Allow the concrete to cure while inspections are carried out. |
| Tile and Coping | 1-2 weeks | Add the tile and coping around the pool's edge. |
| Decking and Landscaping | 2-4 weeks | Construct the pool deck and any desired landscaping features. |
| Filling and Start-up | 1-2 days | Fill the pool, balance water chemistry, and start-up equipment. |
| Final Inspection | 1-2 weeks | Ensure the pool meets all safety and quality standards. |
| Client Orientation | 1-2 days | Walkthrough with the client to explain pool operation and maintenance. |
| Completion and Handover | 1-2 days | Hand over the completed pool to the client. |
Please note that this timeline can vary based on factors such as the pool's size, complexity, weather conditions, and any customization or additional features. It's essential to work closely with your pool construction company to establish a more precise timeline for your specific project.
Is My Yard Big Enough To Build a Swimming Pool?
Determining if your yard is suitable for a swimming pool depends on several factors. First, it's essential to assess the available space. In general, a standard residential pool requires a yard with a minimum size of approximately 300 to 400 square feet. However, the exact dimensions will depend on the pool's size and shape, as well as any local regulations or zoning requirements.
Moreover, factors like the layout of your yard, existing structures, and utilities can also influence pool placement. Additionally, consider the slope and topography of your yard, as significant grading or excavation may be necessary in certain cases.
To get a definitive answer, it's best to consult with a pool construction professional who can conduct a site evaluation and provide recommendations tailored to your specific yard. They will help you determine the ideal pool size, shape, and location based on your available space and local regulations, ensuring that you can enjoy a beautiful and functional swimming pool in your yard.
Do You Offer Financing For Pool Construction Projects?
Yes, we offer financing options for your pool construction project. We have established a network of preferred lenders to make the financing process convenient and accessible for our clients. These financing options can help you turn your dream of having a custom inground pool into a reality while managing your budget effectively. Our team will work with you to explore the financing choices available, ensuring that you can enjoy your new pool without compromising your financial goals.
How Can I Get a Pool Construction Estimate?
Getting a pool construction estimate is easy. Simply fill out our online form, and we will promptly get in touch with you to schedule a free in-home consultation. Alternatively, you can give us a call at (281) 251-1725, and our friendly team will assist you in setting up an appointment. During the consultation, we will discuss your project, assess your specific needs, and provide you with a comprehensive estimate, ensuring that your pool construction project aligns with your vision and budget.
What Do Our Customers Think Of Us?
We could not be any happier with our completed project. The staff were easy to work with, attentive to details, available for questions and clarifications on our time schedule. 
It went quickly and smoothly. We now have a beautiful pool and tastefully designed landscaping. We are very pleased and would highly recommend this company.
Great job designing and installing our pool and patio. Very responsive with every aspect of the project. We were extremely pleased with their work and attention to detail.
Would highly recommend them! Attention to detail and professionalism was over the top. They met deadlines and were in constant communication through the process.
Schedule a Pool Construction Estimate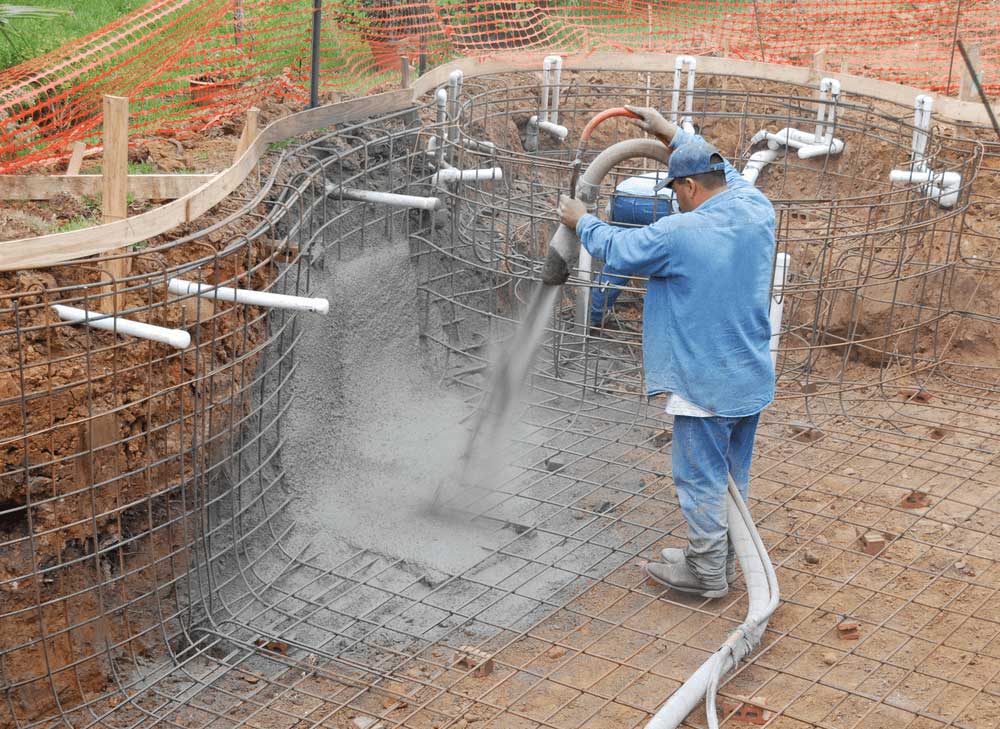 Call (
281) 251-1725 to Schedule a FREE Estimate Today!
Scheduling a free pool construction estimate with Stewart Land Designs is your first step toward realizing your dream outdoor oasis. Our experienced team is eager to collaborate with you and understand your unique vision, whether it's a custom inground pool, a relaxing spa, or a combination of both. During the estimate, we'll carefully assess your space, discuss design ideas, and provide you with a comprehensive understanding of the scope of the project, including costs and timelines. This no-obligation consultation ensures that every aspect of your pool construction is transparent, giving you the confidence to move forward and transform your outdoor living area into a place of relaxation and enjoyment.