A swimming pool is more than just a refreshing oasis; it's a testament to your personal style and a significant investment in your property. As a potential pool buyer, it's crucial to understand the key aspects of pool design and construction to ensure you create a stunning and functional aquatic haven that fits your needs and lifestyle. In this article, we will guide you through the most important considerations when designing and constructing a pool.
Planning Your Swimming Pool
Planning your swimming pool is a crucial initial step in the process of creating your aquatic oasis. It involves a careful assessment of your needs, preferences, and the unique characteristics of your property. During this phase, you'll determine the pool type, size, shape, and location, taking into account factors like available space, purpose (whether for recreation, exercise, or relaxation), and your budget. You'll also explore design elements such as the pool's style, depth, and surrounding features.
Engaging a professional pool designer or architect can be invaluable during the planning process, as their expertise can help you navigate the myriad of design options, ensure compliance with local regulations, and bring your vision to life. Thoughtful planning sets the stage for a successful pool project that harmonizes with your lifestyle and enhances the beauty and functionality of your outdoor living space.
Pool Type and Purpose
The first step in creating your dream pool is determining its purpose. Pools come in various types, including:
Inground Pools: These are the most popular choice and offer a sleek, permanent addition to your property.
Above-Ground Pools: A more affordable and temporary option, perfect for those with limited space or a tight budget.
Natural Pools: Combine traditional swimming areas with natural elements like plants and stones for an eco-friendly option.
Swim Spas: Compact, customizable options that offer both relaxation and exercise.
Pool Size and Shape
Your pool's size and shape should align with your vision and available space. Factors to consider include:
Available space in your yard or property.
How many people will be using the pool regularly.
The pool's primary purpose (e.g., exercise, relaxation, or entertaining).
Local regulations and zoning requirements.
Material Selection
Pool construction materials significantly affect the pool's appearance, durability, and maintenance. The most common choices include:
Concrete: Versatile and highly customizable, concrete pools can take on any shape or size but require regular maintenance and resurfacing.
Fiberglass: Low-maintenance and quick to install, but less customizable than concrete.
Vinyl Liner: Affordable, with a smooth surface, but may require replacement every 10-15 years.
Filtration and Sanitation
Maintaining water quality is essential for a clean and safe pool. Consider the type of filtration and sanitation system, such as:
Chlorine: Traditional and effective, but can irritate skin and eyes.
Saltwater: Provides a more natural feel and is gentler on the skin.
Ozone or UV-C: Alternative methods for reducing chlorine use.
Variable-Speed Pumps: Improve energy efficiency and reduce operating costs.
Additional Features
Enhance your pool's functionality and aesthetics with additional features, such as:
Water Features: Waterfalls, fountains, or scuppers add visual interest and soothing sounds.
Pool Lighting: Illuminate your pool for nighttime enjoyment.
Decking and Landscaping: Choose materials and plants that complement your pool's design.
Automatic Pool Covers: Improve safety, energy efficiency, and maintenance.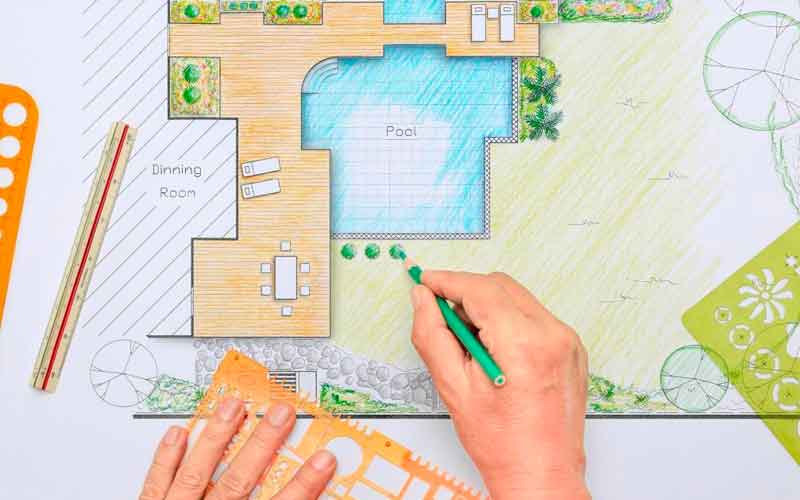 Designing a Pool – 10 Important Considerations
Pool Shape and Style: The shape of your pool is a crucial design element that can greatly impact the overall aesthetics. You can choose from various shapes, including:

Rectangular: Classic and timeless, perfect for a modern, clean look.
Freeform: Organic and flowing shapes that mimic natural bodies of water.
Geometric: Shapes with defined angles and symmetry.
Lap Pools: Designed for fitness, these pools are long and narrow.
Custom: Tailored to your unique vision and property layout.

Depth and Profile: Consider the depth profile of your pool, which can include shallow areas for lounging, deeper sections for swimming and diving, and even beach entries that gradually slope into the water.
Pool Materials: Beyond the pool construction material, the choice of finish can greatly impact the design. Options include:

Tile: Provides a luxurious and customizable surface.
Pebble Tec: Offers a natural, textured appearance.
Aggregate: Combines small stones or glass with plaster for a sparkling finish.
Color Choices: The color of your pool's interior can influence its overall look.

Surroundings and Landscaping: The area around the pool, including decking, landscaping, and hardscaping, plays a significant role in the pool's design. Choose materials and plants that complement the pool's style and enhance its visual appeal.
Water Features: Water features like waterfalls, spillover spas, and fountains can add elegance and drama to your pool's design. They also provide soothing sounds and visual interest.
Pool Accessories: Don't forget about pool accessories such as diving boards, slides, and swim-up bars. These can make your pool area more enjoyable and tailored to your lifestyle.
Outdoor Living Spaces: Consider integrating your pool into a broader outdoor living space. This might include outdoor kitchens, seating areas, fire pits, and pergolas, creating a cohesive and functional design.
Safety and Accessibility: Pool design should also prioritize safety and accessibility. Install appropriate fencing, gates, and handrails where needed. Ensure that there are clear paths and surfaces for easy movement around the pool area.
Lighting: Proper lighting can transform your pool's design at night. Consider underwater LED lights, pathway lighting, and landscape lighting to create a captivating atmosphere.
Site-Specific Considerations: Adapt your pool design to your property's unique features. If you have a fantastic view, design your pool to maximize it. If you're dealing with limited space, opt for a smaller, space-efficient design.
Incorporating these design elements can help you create a pool that not only serves its functional purpose but also becomes a stunning focal point in your outdoor space. It's crucial to work closely with a professional pool designer or architect who can help you bring your vision to life and ensure that your pool's design integrates seamlessly with your property's overall aesthetics and functionality.
Schedule an Estimate